Table of contents: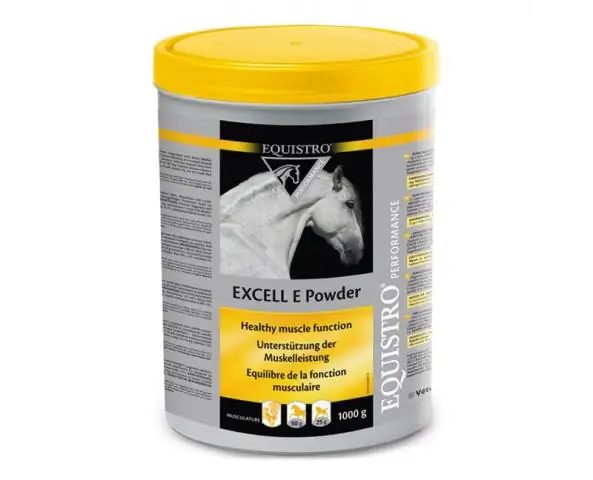 Video: Complivit Magnesium - Instructions For The Use Of Vitamins, Reviews, Composition
Complivit Magnesium
Complivit Magnesium: instructions for use and reviews
1. Release form and composition
2. Pharmacological properties
3. Indications for use
4. Contraindications
5. Method of application and dosage
6. Side effects
7. Overdose
8. Special instructions
9. Drug interactions
10. Analogs
11. Terms and conditions of storage
12. Terms of dispensing from pharmacies
13. Reviews
14. Price in pharmacies
Latin name: Complivit Magniy
ATX code: А11АА04
Active ingredient: cyanocobalamin + ascorbic acid + folic acid + magnesium + retinol acetate + α-tocopherol acetate + copper + nicotinamide + thiamine hydrochloride + calcium pantothenate + zinc + pyridoxine hydrochloride + riboflavin (Cyanocobalamin + Acidum ascoric acetaminum retinum + α-tocopheroli acetas + Cuprum + Nicotinamide + Thiamin hydrochloride + Calcium pantothenas + Zincum + Pyridoxine hydrochloride + Riboflavinum)
Manufacturer: Pharmstandard-UfaVITA OJSC (Russia)
Description and photo update: 19.10.2018
Prices in pharmacies: from 187 rubles.
Buy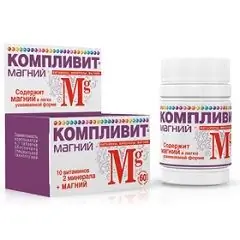 Complivit Magnesium is a dietary supplement (dietary supplement) to food, which is an additional source of vitamin A, B vitamins (B 1, B 2, B 6, B 12, folic acid, calcium pantothenate), C and E, nicotinamide, mineral elements (magnesium, zinc and copper). Recommended for symptoms of magnesium deficiency.
Release form and composition
Dosage form Complivita Magnesium - coated tablets weighing 735 mg: biconvex, from yellow-brown to light brown with a pink tint (30, 60 and 90 pcs. In polymer cans, 1 can in a cardboard box; 10 pcs. in blisters, 3 packs in a cardboard box).
Each tablet contains the following substances (% of the recommended daily requirement):
ascorbic acid (vitamin C) - 50 mg (71.4%);
magnesium (magnesium lactate) - 50 mg (12.5%);
Alpha-Tocopherol Acetate (Vitamin E) 10 mg (100%)
nicotinamide (vitamin PP) - 7.5 mg (37.5%);
calcium pantothenate (vitamin B 5) - 5 mg (100%);
riboflavin (vitamin B 2) - 2 mg (111%);
pyridoxine hydrochloride (vitamin B 6) - 2 mg (100%);
zinc - 2 mg (13.3%);
thiamine hydrochloride (vitamin B 1) - 1 mg (67%);
copper - 0.75 mg (75%);
Retinol Acetate (Vitamin A) - 0.5 mg or 1453.5 International Units (50%)
folic acid (vitamin B 9) - 0.1 mg (50%);
cyanocobalamin (vitamin B 12) - 0.003 mg (100%).
Additional components in Complivit Magnesium: ludipress, sugar, polyethylene oxide (E 1521), lactose (milk sugar), citric acid (E 330), talc (E 553), polyvinylpyrrolidone (E 1201), titanium dioxide (E 171), hydroxypropyl methylcellulose, kollidone, magnesium stearate, azorubin dye (E 122).
Pharmacological properties
The action of the supplement is due to the properties of its constituent components, the compatibility of which is ensured by a special technology.
Complivit Magnesium contains magnesium in an easily assimilated form of magnesium lactate, vitamins B 2, B 5, B 6 and B 12 (in a daily physiological dose), as well as a complex of other important vitamins and minerals.
Characteristics of the components in Complivit Magnesium:
vitamin A: essential for bone growth and reproductive function, participates in the formation of visual pigments, color and twilight vision, ensures the integrity of epithelial tissues;
vitamin B 1: participates in the metabolism of fats, carbohydrates and proteins, protects cell membranes from the toxic effects of peroxidation products, plays a significant role in the processes of nervous excitation in synapses;
vitamin B 2: is an important catalyst for the processes of cellular respiration, is important for normal visual function of the eyes and the synthesis of hemoglobin, participates in fat, protein and carbohydrate metabolism;
vitamin B 6: is a participant in metabolism, the functioning of the central and peripheral nervous system;
vitamin B 9: essential for normal erythropoiesis, participates in the synthesis of nucleotides, nucleic acids and amino acids;
vitamin B 12: participates in the metabolism of folic acid, the synthesis of myelin and nucleotides, is an important factor in hematopoiesis, the development of epithelial cells, and normal growth;
vitamin C: has a pronounced antioxidant and antiplatelet effect, reduces vascular permeability, increases the body's resistance to infections, participates in tissue regeneration, promotes blood clotting, regulates carbohydrate metabolism and redox processes;
vitamin E: has antioxidant properties, has a positive effect on the functions of the gonads, muscle and nervous tissue, together with selenium prevents hemolysis, maintains the stability of erythrocytes, inhibits the oxidation of unsaturated fatty acids;
calcium pantothenate: promotes the construction and regeneration of the epithelium and endothelium, is necessary to ensure the processes of oxidation and acetylation;
nicotinamide: is a participant in tissue respiration, metabolism of carbohydrates and fats;
copper: strengthens the vascular walls, prevents oxygen starvation of tissues and organs, helps prevent anemia and osteoporosis, participates in collagen synthesis, has an antioxidant effect;
zinc: promotes hair growth and regeneration, has an immunomodulatory effect, helps the absorption of vitamin A;
magnesium: is a part of more than 300 enzymes, takes part in various metabolic processes, regulates protein, phosphorus and carbohydrate metabolism, normalizes heart rate, relaxes smooth muscles, is necessary for the regulation of the neuromuscular activity of the heart, the normal functioning of the muscle and nervous systems, facilitates symptoms of nervous tension (irritability and anxiety).
Indications for use
According to the instructions, Complivit Magnesium is recommended as a food supplement - an additional source of vitamins A, group B (B 1, B 2, B 6, B 12 and calcium pantothenate), C and E, nicotinamide, folic acid, mineral elements (magnesium, zinc and copper).
It is indicated for symptoms of magnesium deficiency, such as irritability, increased nervous irritability, insomnia, muscle weakness, muscle cramps.
Contraindications
You should not take vitamins Complivit Magnesium in case of intolerance to any component.
Instructions for use of Complivit Magnesium: method and dosage
Supplements are shown to be taken with meals.
The optimal dose for adults is 1 tablet once a day.
The recommended duration of admission is 1 month.
Side effects
Side effects are rare while taking the drug. With individual intolerance to any component, they most often manifest themselves in the form of allergic reactions. In the first days of using Complivit Magnesium, dyspeptic symptoms can be observed that pass on their own.
Overdose
Taking more than 1 tablet per day for a long time can provoke an overdose, which is accompanied by symptoms of hypervitaminosis. Their manifestations are quite individual and are determined by the content of vitamins and trace elements in the body in each case.
Reception of Complivit Magnesium is stopped and symptomatic detoxification therapy is carried out.
special instructions
The supplement can be taken by pregnant and breastfeeding women, but only as directed by a doctor.
Complivit Magnesium is not a drug. Before starting a course of admission, it is recommended to consult your doctor for advice.
Drug interactions
The absorption of the active ingredients of the drug decreases with the combined intake of Complivit Magnesium with antacid and enveloping drugs, as well as enterosorbents.
Simultaneous intake of this dietary supplement with other multivitamin complexes is strictly contraindicated, since this can lead to the development of hypervitaminosis.
Analogs
Complivit Magnesium analogues are Complivit Active, Supradin, Duovit, Elevit Pronatal, Univit A ‒ Z formula, Sertovit, Berocca, Vitrum Prenatal, Multi-tabs Intensive, Selmevit, etc.
Terms and conditions of storage
Shelf life is 2 years.
Storage conditions: place protected from light and out of reach of children, temperature - no more than 25 ° С.
Terms of dispensing from pharmacies
Available without a prescription.
Reviews of Complivit Magnesium
On the Internet, users leave mostly positive reviews about Complivite Magnesium, since the dietary supplement contains all the vitamins, trace elements and minerals necessary for the full growth and vital activity of the body.
Many patients like the fact that the drug needs to be taken only 1 tablet a day, which ensures its economical consumption. They also note the high content of magnesium in it, which has a beneficial effect on the state of the nervous system during anxiety, panic attacks, attacks of vegetative vascular dystonia (VVD), and helps to get out of the depressive state. Also Complivit Magnesium helps to eliminate insomnia, pain and cramps in the muscles, improves the condition of the skin, hair and nails, increases the body's immunity during epidemics.
Some users who have taken the supplement complain of skin rashes, nausea, diarrhea and no noticeable effect. The cost of vitamins Complivit Magnesium is called relatively low.
Price for Complivit Magnesium in pharmacies
The approximate price for Complivit Magnesium in pharmacy chains varies from 175 to 249 rubles. per pack containing 60 tablets.
Complivit Magnesium: prices in online pharmacies
Drug name
Price
Pharmacy
Complivit Magnesium 735 mg tablets 60 pcs.
187 r
Buy
Complivit Magnesium tablets 735mg 60 pcs.
227 r
Buy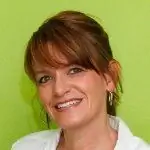 Maria Kulkes Medical journalist About the author
Education: First Moscow State Medical University named after I. M. Sechenov, specialty "General Medicine".
Information about the drug is generalized, provided for informational purposes only and does not replace the official instructions. Self-medication is hazardous to health!
Popular by topic