Table of contents:
Video: Co-trimoxazole - Instructions For Use, Price, Analogs, Tablets
Co-trimoxazole
Co-trimoxazole: instructions for use and reviews
1. Release form and composition
2. Pharmacological properties
3. Indications for use
4. Contraindications
5. Method of application and dosage
6. Side effects
7. Overdose
8. Special instructions
9. Drug interactions
10. Analogs
11. Terms and conditions of storage
12. Terms of dispensing from pharmacies
13. Reviews
14. Price in pharmacies
Latin name: Co-trimoxazol
ATX code: J01EE01
Active ingredient: co-trimoxazole [sulfamethoxazole + trimethoprim] (co-trimoxazole [sulfamethoxazole + trimethoprim])
Manufacturer: Biosintez OJSC, Pharmstandard-Leksredstva OJSC, Russia
Description and photo update: 2019-13-08
Prices in pharmacies: from 16 rubles.
Buy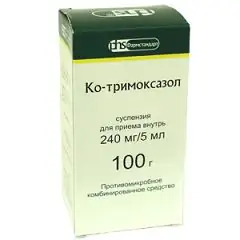 Co-trimoxazole is a combined antimicrobial sulfa drug.
Release form and composition
Dosage forms of Co-trimoxazole:
Tablets 120 mg (10 pcs. In blister strip packs, 3 packs in a cardboard box; 20 pcs. In cans, 1 can in a cardboard box; 10 pcs. In contoured non-cell packs, 100 packs in a cardboard box);
Tablets 480 mg (10 pcs. In blisters, 1 or 2 blisters in a cardboard box; 10 pcs. In blister packs, 3 packages in a cardboard box; 20 pcs. In cans, 1 can in a cardboard box; 10 pcs.. in non-cell contoured packages, 100 packages in a cardboard box);
Tablets 960 mg (in packs of 10, 20, 100 or 500 pcs.);
Suspension for oral administration (50, 100 or 125 mg in dark glass bottles, 1 bottle complete with a dosage spoon in a cardboard box);
Granules for the preparation of a suspension for oral administration (4.8 g each in 100 ml vials, 1 or 20 vials in a package).
Active substances in Co-trimoxazole:
1 tablet 120 mg: sulfamethoxazole - 100 mg and trimethoprim - 20 mg;
1 tablet 480 mg: sulfamethoxazole - 400 mg and trimethoprim - 80 mg;
1 tablet 960 mg: sulfamethoxazole - 800 mg and trimethoprim - 160 mg;
5 ml of suspension: sulfamethoxazole - 200 mg and trimethoprim - 40 mg;
5 ml of a suspension prepared from granules: sulfamethoxazole - 200 mg and trimethoprim - 40 mg.
Pharmacological properties
Pharmacodynamics
Sulfamethoxazole is structurally similar to para-aminobenzoic acid and interferes with the production of dihydrofolic acid in bacterial cells, preventing the inclusion of para-aminobenzoic acid in its molecule. Trimethoprim enhances the properties of sulfamethoxazole, disrupting the process of reducing dihydrofolic acid to tetrahydrofolic acid. The latter is an active form of folic acid, which is responsible for cell division of microbes and protein metabolism in them.
Co-trimoxazole is a broad-spectrum bactericidal agent. It is characterized by high activity against the following microorganisms: Chlamydia spp. (including Chlamydia psittaci, Chlamydia trachomatis), Streptococcus pneumoniae, Streptococcus spp. (especially hemolytic strains with increased sensitivity to penicillin), Pneumocystis carinii, Staphylococcus spp., Morganella spp., Neisseria gonorrhoeae, Neisseria meningitidis, Yersinia spp., Escherichia coli (including strains of enterotoxigenic nature), Salmonella spp., Salmonella spp. … (including Salmonella paratyphi and Salmonella typhi), Serratia marcescens, Vibrio cholerae, some Pseudomonas species (excluding Pseudomonas aeruginosa), Bacillus anthracis, Providencia, Haemophilus influenzaе (including ampicillin-resistant strains)Legionella pneumophila, Listeria spp., Enterobacter spp., Nocardia asteroides, Citrobacter, Bordetella pertussis, Mycobacterium spp. (including Mycobacterium leprae), Enterococcus faecalis, Brucella spp., Francisella tularensis, Klebsiella spp., Pasteurella spp., Proteus spp.
Co-trimoxazole also acts on protozoa: Leishmania spp., Plasmodium spp., Histoplasma capsulatum, Toxoplasma gondii, Coccidioides immitis, Actinomyces israelii, pathogenic fungi. Viruses, Corynebacterium spp., Leptospira spp., Pseudomonas aeruginosa, Treponema spp., Mycobacterium tuberculosis show resistance to the drug.
The drug suppresses the vital activity of Escherichia coli, which causes a decrease in the production of thiamine, niacin, riboflavin and other B vitamins in the intestine. The therapeutic effect lasts at least 7 hours.
Pharmacokinetics
When taken orally, Co-trimoxazole is absorbed by about 90%. The maximum level of the substance in the plasma is recorded 1–4 hours after administration, and the therapeutic concentrations remain at the required level for 7 hours after a single dose. Co-trimoxazole is well distributed throughout the tissues and systems of the body, penetrates the placental and blood-brain barriers, as well as into breast milk. During treatment, the concentration of the substance in the urine and lungs is maintained in excess of those in the plasma.
To a lesser extent, Co-trimoxazole is accumulated in the interstitial fluid, bronchial secretions, breast milk, vaginal secretions, aqueous humor of the eye, tissue and secretions of the prostate gland, saliva, middle ear fluid (during the inflammatory process), bones, bile, cerebrospinal fluid. Sulfamethoxazole binds to plasma proteins by 66%, trimethoprim by 45%.
Both active components of Co-trimoxazole are metabolized, forming acetylated derivatives (to a greater extent, this is typical for sulfamethoxazole). Metabolites have no antibacterial activity.
Co-trimoxazole is excreted through the kidneys in unchanged form (trimethoprim - 50% of the dose taken, sulfamethoxazole - 20% of the dose taken) and as metabolites (80% of the dose taken over 72 hours). A small amount of the substance is excreted through the intestines. The half-life of trimethoprim is 10–12 hours, and that of sulfamethoxazole is 9–11 hours. In children, it turns out to be significantly less and is determined by age: up to 1 year, the half-life is 7–8 hours, from 1 to 10 years - 5–6 hours. In elderly patients and patients with renal dysfunction, the half-life of co-trimoxazole increases.
Indications for use
Monotherapy:
Respiratory tract infections: acute and chronic bronchitis, bronchopneumonia, croupous and pneumocystis pneumonia, bronchiectasis;
Gastrointestinal tract infections: cholera, salmonella, cholangitis, dysentery, paratyphoid fever, cholecystitis, typhoid fever and gastroenteritis caused by enterotoxic strains of Escherichia coli;
ENT-organs infections: angina, laryngitis, sinusitis, scarlet fever, otitis media;
Urogenital infections: gonorrhea (male and female), inguinal granuloma, lymphogranuloma venereum, chancre, epididymitis, prostatitis, pyelitis, cystitis, pyelonephritis, urethritis;
Infections of soft tissues and skin: wound infections, furunculosis, acne, pyoderma.
Complex therapy:
Acute brucellosis;
Toxoplasmosis;
Malaria (Plasmodium falciparum);
South American blastomycosis;
Acute and chronic osteomyelitis;
Other osteoarticular infections.
Contraindications
Absolute:
Renal failure (creatinine clearance less than 15 ml / min);
B12 deficiency anemia;
Aplastic anemia;
Liver failure;
Deficiency of glucose-6-phosphate dehydrogenase;
Agranulocytosis, leukopenia;
Hyperbilirubinemia in children;
Children up to age 3 months;
Pregnancy and lactation;
Hypersensitivity to Co-trimoxazole or other sulfonamides.
Relative:
Bronchial asthma;
Folic acid deficiency;
Diseases of the thyroid gland;
Dysfunction of the kidneys and liver;
History of allergic reactions.
Instructions for the use of Co-trimoxazole: method and dosage
According to the instructions, Co-trimoxazole should be taken orally during or after meals.
A suspension is prepared from the granules. To do this, add 100 ml of boiled water to the bottle and mix thoroughly.
Recommended doses of Co-trimoxazole tablets:
Adults and children over 12 years old: 960 mg 1 time / day or 480 mg 2 times / day, in severe cases - 480 mg 3 times / day, with chronic infections - 480 mg 2 times / day;
Children 6-12 years old: 240-480 mg 2 times / day;
Children 2-6 years old: 120-240 mg 2 times / day;
Children 1-2 years old: 120 mg 2 times / day.
Recommended doses of Co-trimoxazole in the form of a suspension, including those prepared from granules:
Adults and adolescents over 12 years old: 960 mg 2 times / day;
Children 7-12 years old: 480 mg 2 times / day;
Children 4-6 years old: 240-480 mg 2 times / day;
Children from 7 months to 6 years old: 120-240 mg 2 times / day;
Children 3-6 months: 120 mg 2 times / day.
The duration of treatment depends on the indication and the general clinical picture, usually from 5 to 10 days. After the clinical symptoms of the disease disappear, the drug should be continued for another 2 days. Therapy for acute brucellosis lasts 3-4 weeks, paratyphoid and typhoid fever - 1-3 months. Treatment for chronic infections is longer.
For the prevention of recurrence of chronic infections of the urinary system, Co-trimoxazole is prescribed for adults and adolescents over 12 years of age, 480 mg once a day at night, for children under 12 years of age - 12 mg / kg / day. The course can last from 3 to 12 months.
In acute cystitis in children aged 7-16 years, 480 mg is prescribed 2 times / day for 3 days.
The recommended dose for Pneumocystis carinii pneumonia is 120 mg / kg / day in divided doses at 6 hour intervals for 14 days.
The initial dose for typhoid is 960 mg 3 times / day, after the fever subsides, the dose is reduced to 960 mg 2 times / day, treatment is continued for at least 2 weeks. For children, the dose is reduced by 2 times.
For patients with gonorrheal pharyngitis, Co-trimoxazole is prescribed in case of hypersensitivity to penicillin: at a dose of 4320 mg once a day for 5 days.
For some diseases in adults, the doctor may recommend a single dose of the drug or short-term courses. For instance:
Uncomplicated cystitis in women: 2,400 mg once with plenty of water;
Chancroid: 3840 mg as a single dose with plenty of water;
Uncomplicated acute gonorrhea: 2400 mg once, after 8 hours - taking the same dose.
Patients with renal insufficiency with creatinine clearance (CC) of more than 25 ml / minute do not require dose adjustment of Co-trimoxazole, with CC from 15 to 25 ml / minute a standard dose is prescribed for the first 3 days of therapy, then ½ the standard dose. Patients with CC less than 15 ml / minute can use ½ the standard dose only if the patient is undergoing hemodialysis.
Side effects
From the side of hematopoiesis: agranulocytosis, thrombocytopenia, megaloblastic anemia, neutropenia, leukopenia;
From the nervous system: vertigo, headache; in some cases - tremor, apathy, peripheral neuritis, depression, aseptic meningitis;
From the respiratory system: pulmonary infiltrates, bronchospasm;
From the digestive system: stomatitis, glossitis, gastritis, diarrhea, abdominal pain, decreased appetite, cholestasis, nausea, vomiting, increased activity of hepatic transaminases, pseudomembranous enterocolitis, hepatonecrosis, hepatitis;
From the urinary system: hematuria, crystalluria, hypercreatininemia, polyuria, increased urea concentration, impaired renal function, interstitial nephritis, toxic nephropathy with oliguria and anuria;
From the musculoskeletal system: myalgia, arthralgia;
Allergic reactions: rash, itching, exfoliative dermatitis, hyperemia of the sclera, angioedema, fever, allergic myocarditis, photosensitivity, toxic epidermal necrolysis, exudative erythema multiforme;
Others: hypoglycemia.
Overdose
Symptoms of an overdose of Co-trimoxazole include crystalluria, hematuria, intestinal colic, nausea, vomiting, fever, headache, dizziness, visual disturbances, drowsiness, blurred consciousness, depressive states, fainting. Long-term use of the drug in high doses can also provoke jaundice, megaloblastic anemia, leukopenia, thrombocytopenia.
For emergency measures in case of an overdose, gastric lavage is considered. Trimethoprim is excreted from the body faster when urine is acidified. Also, it is recommended to take liquid by mouth and intramuscular administration of calcium folinate in a daily dose of 5-15 mg (levels the effect of trimethoprim on the bone marrow). If necessary, hemodialysis is performed.
special instructions
With long-term treatment (more than 1 month), it is necessary to regularly do blood tests, because there is a risk of hematological changes (including asymptomatic ones). These changes can be reversible due to the intake of folic acid (in a daily dose of 3-6 mg), while the antimicrobial activity of the drug is not significantly impaired. Particular care should be taken when treating the elderly and patients with suspected baseline folate deficiency. The additional appointment of folic acid is also advisable in long-term treatment with high doses of Co-trimoxazole. In addition, with long-term treatment, it is necessary to monitor the functional state of the liver and kidneys.
To avoid the development of crystalluria, an adequate water load and a sufficient volume of urine should be maintained. With a decrease in the filtration function of the kidneys, the risk of developing allergic and toxic complications of sulfonamides significantly increases.
During treatment, it is recommended to avoid excessive sun and ultraviolet radiation, and also to exclude from the diet foods that contain high amounts of para-aminobenzoic acid (PABA), such as tomatoes, carrots, green parts of plants (spinach, cauliflower and legumes).
Patients with acquired immune deficiency syndrome (AIDS) have a significantly higher risk of side effects.
Due to the widespread resistance of strains, Co-trimoxazole is not recommended for use in pharyngitis and tonsillitis caused by group A beta-hemolytic streptococcus.
Influence on the ability to drive vehicles and complex mechanisms
During therapy, care must be taken when driving vehicles and performing potentially hazardous types of work that require increased concentration and immediate psychomotor reactions. Consideration should be given to the possibility of side effects from the central nervous system: dizziness, hallucinations, seizures, vertigo. With their development, it is recommended to refuse to engage in the above activities.
Drug interactions
Salicylic acid derivatives: the effect of Co-trimoxazole is enhanced;
Methotrexate: its toxicity increases;
Hypoglycemic drugs: their effect is enhanced;
Indirect anticoagulants: their activity increases;
Phenytoin, warfarin: the intensity of their hepatic metabolism decreases, the effects increase;
Oral contraceptives: their effectiveness decreases;
Procaine, benzocaine, procainamide and other drugs, as a result of hydrolysis of which PABA is formed: reduce the effect of Co-trimoxazole;
Rifampicin: the half-life of trimethoprim is shortened;
Pyrimethamine in doses greater than 25 mg / week: the risk of megaloblastic anemia increases;
Diuretics (especially thiazides): the risk of thrombocytopenia increases, especially in the elderly;
Para-aminosalicylic acid, phenytoin, barbiturates: manifestations of folic acid deficiency increase;
Cholestyramine: absorption of Co-trimoxazole decreases (in this regard, the drug should be taken 1 hour before or 4-6 hours after taking cholestyramine);
Drugs that inhibit bone marrow hematopoiesis: the risk of myelosuppression increases;
Indomethacin, butadione, naproxen, salicylates and some other non-steroidal anti-inflammatory drugs: it is possible to increase the action of Co-trimoxazole with the development of undesirable effects;
Chloridine: the antimicrobial effect of the drug is enhanced.
Between diuretics (furosemide, thiazides, etc.) and oral hypoglycemic drugs (sulfonylurea derivatives), on the one hand, and antimicrobial sulfonamides, on the other hand, a cross-allergic reaction may develop.
Analogs
Analogues of Co-trimoxazole are: Berlocid 240, Biseptol, Bactrim, Groseptol, Briefseptol, Duo-Septol, Dvaseptol, Co-trimoxazole-Acri, Cotrifarm 480, Co-trimoxazole-STI, Oriprim, Co-trimoxazol-Biosinosin, Polseptol, Sinersul, Septrin, Sumetrolim, Sulotrim, Tsiplin.
Terms and conditions of storage
Store in a dry, dark place and out of reach of children. Tablets and granules - at a temperature of 15-25 ºС, suspension - at a temperature of up to 15 ºС.
Shelf life of tablets - 5 years, suspension and granules - 2 years. The suspension prepared from granules can be stored for 2 weeks at room temperature, up to 4 weeks in the refrigerator.
Terms of dispensing from pharmacies
Dispensed by prescription.
Reviews about Co-trimoxazole
Reviews of Co-trimoxazole confirm its high efficiency when used according to indications. However, they are prescribed treatment with caution due to the ability to inhibit hematopoietic function and increased toxicity.
The price of Co-trimoxazole in pharmacies
The price of Co-trimoxazole in the form of a suspension for oral administration is 48–53 rubles (per 100 ml bottle). Co-trimoxazole tablets with a dosage of 480 mg can be purchased for about 17-25 rubles (10 pcs are included in the package). Granules for the preparation of oral suspension are not currently on sale.
Co-trimoxazole: prices in online pharmacies
Drug name
Price
Pharmacy
Co-trimoxazole 480 mg tablets 10 pcs.
RUB 16
Buy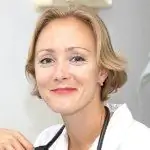 Anna Kozlova Medical journalist About the author
Education: Rostov State Medical University, specialty "General Medicine".
Information about the drug is generalized, provided for informational purposes only and does not replace the official instructions. Self-medication is hazardous to health!
Popular by topic