Table of contents: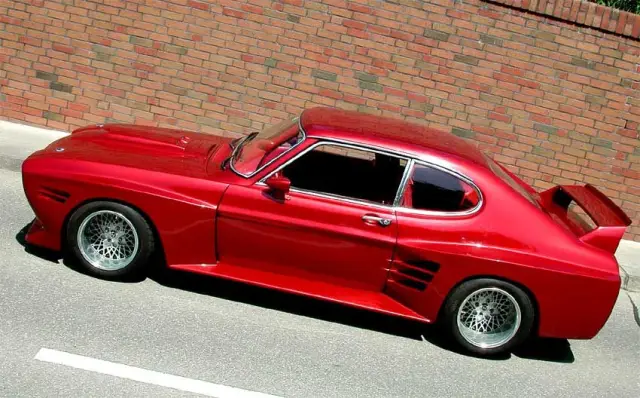 Video: Caposid - Instructions For Use, Price, Reviews, Analogs Of Tablets
Caposid
Caposid: instructions for use and reviews
1. Release form and composition
2. Pharmacological properties
3. Indications for use
4. Contraindications
5. Method of application and dosage
6. Side effects
7. Overdose
8. Special instructions
9. Application during pregnancy and lactation
10. Drug interactions
11. Analogs
12. Terms of dispensing from pharmacies
13. Terms and conditions of storage
14. Reviews
15. Price in pharmacies
Latin name: Capozid
ATX code: С09ВА01
Active ingredient: captopril + hydrochlorothiazide (captopril + hydrochlorothiazide)
Manufacturer: Bristol-Myers Squibb Company (USA)
Description and photo update: 2019-16-08
Prices in pharmacies: from 427 rubles.
Buy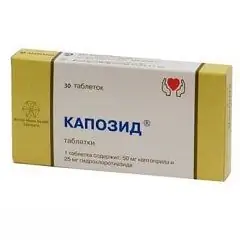 Caposide is a combined antihypertensive drug.
Release form and composition
Caposid is produced in the form of tablets: white with a cream shade or white, oval, biconvex, with a notch on one side and the embossed word "SQUIBB" and the numbers "50/25" on the other side with a beveled edge, with a sulfide-like odor; light marbling is possible (14 pcs. in blisters, 2 packs in a cardboard box).
The composition of 1 tablet contains active substances:
Captopril - 50 mg;
Hydrochlorothiazide - 25 mg
Auxiliary components: stearic acid - 6 mg, microcrystalline cellulose - 118.5 mg, magnesium stearate - 0.3 mg, pregelatinized (corn) starch - 30 mg, lactose - 70.2 mg.
Pharmacological properties
Pharmacodynamics
Caposid is a combined drug with diuretic and hypotensive effects.
Captopril is an inhibitor of the angiotensin-converting enzyme (ACE), inhibits the transition of angiotensin I to angiotensin II, reduces the secretion of aldosterone, reduces total peripheral vascular resistance, post- and preload, and normalizes blood pressure. The substance ensures the expansion of the arteries to a greater extent than the veins, and activates the renal and coronary blood flow. With long-term treatment, there is a decrease in hypertrophy of the walls of resistant arteries and myocardium. Also, captopril prevents platelet aggregation and improves the blood supply to the ischemic myocardium.
Hydrochlorothiazide is a thiazide diuretic with moderate pharmacological activity. It reduces the degree of sodium ion reabsorption at the level of the cortical segment of Henle's loop, lowers blood pressure due to changes in the reactivity of the vascular walls, increased depressive effects on the autonomic ganglia, weakening of the pressor effect of endogenous vasoconstrictor substances (noradrenaline, adrenaline), does not change the acid-base balance … To a lesser extent, the effect of reducing pressure is achieved by reducing the volume of circulating blood. Also, hydrochlorothiazide enhances the hypotensive effect of captopril.
The diuretic effect after oral administration of Caposide is observed after 2 hours and reaches its peak after 4 hours. The duration of the therapeutic action is 6–12 hours.
The safety and efficacy of prescribing captopril in pediatric patients has not yet been confirmed by clinical trials. The literature describes cases of limited use of Caposide in pediatrics. Children, especially newborns, are at increased risk of developing hemodynamic side effects. In some cases, during the treatment with captopril of patients in this category, an excessive, unpredictable and prolonged increase in blood pressure was noted, sometimes accompanied by complications, in particular, convulsions and oliguria.
Pharmacokinetics
Captopril, when taken orally, is absorbed at a high rate in the gastrointestinal tract, its maximum concentration is determined in the blood plasma approximately 1 hour after the dose has entered the body. The bioavailability of the substance reaches 60-70% on average. Taking captopril with food reduces its absorption rate by about 30–40%. The degree of its binding to blood plasma proteins is 25–30%. The half-life is 2-3 hours. Captopril is excreted from the body mainly in the urine: up to 50% of the substance is unchanged, the rest is in the form of various metabolites.
Hydrochlorothiazide is absorbed quickly enough when taken orally. Its half-life from blood plasma varies from 5 to 15 hours when taken on an empty stomach (values obtained as a result of studies in which healthy volunteers took part). Hydrochlorothiazide is excreted through the kidneys, and 95% of the administered dose is unchanged.
Indications for use
According to the instructions, Kapozid is prescribed for arterial hypertension (for patients who are indicated for combined treatment).
Contraindications
Angioneurotic edema, idiopathic or hereditary (history of taking angiotensin-converting enzyme inhibitors);
Mitral stenosis;
Aortic stenosis;
Stenosis of an artery of a solitary kidney or bilateral stenosis of the renal arteries;
Hypertrophic obstructive cardiomyopathy;
Chronic heart failure;
Condition after kidney transplant;
Arterial hypotension;
Cardiogenic shock;
Severe liver failure (hepatic coma, precomatous state);
Severe renal failure (with serum creatinine> 1.8 mg / dL or creatinine clearance <20-30 ml per minute, anuria);
Primary hyperaldosteronism;
Lactase deficiency, lactose intolerance, glucose-galactose malabsorption syndrome;
Simultaneous use with aliskiren and aliskiren-containing drugs in patients with diabetes mellitus or impaired renal function (at a glomerular filtration rate <60 ml per minute);
Pregnancy and lactation (breastfeeding);
Age up to 18 years (the safety and efficacy of the use of Caposide for this age group of patients have not been established);
Hypersensitivity to the components of Caposide, other angiotensin-converting enzyme inhibitors, sulfonamide derivatives and thiazide diuretics (cross-allergic reactions may develop).
Caposide should be taken with caution in the following diseases / conditions:
Progressive liver disease, liver dysfunction;
Renal failure of moderate severity (with creatinine clearance of 30-60 ml per minute);
Hypokalemia (not drug-corrected);
Proteinuria (more than 1000 mg per day);
Hypovolemia;
Hyponatremia;
Hyperuricemia, gout;
Hypercalcemia;
Systemic connective tissue diseases and other autoimmune diseases, including scleroderma, systemic lupus erythematosus, periarteritis nodosa;
Secondary angle-closure glaucoma and acute myopia;
Hemodialysis using high-strength membranes (eg AN69);
General anesthesia / surgery;
Carrying out desensitizing therapy;
Simultaneous use with potassium preparations, potassium-sparing diuretics, potassium-containing substitutes;
Simultaneous use with lithium preparations;
Simultaneous use with drugs that suppress the protective reactions of the body (cytostatics, glucocorticoids, immunosuppressants), procainamide, allopurinol;
Belonging to the Negroid race;
Elderly age (over 65).
Instructions for use of Caposide: method and dosage
Caposide is taken orally 1 hour before meals.
The daily dose is 1 tablet.
Side effects
Caposid can cause the development of disorders on the part of some body systems, manifested with different frequencies (≥1 / 100 and <1/10 - often, ≥1 / 1000 and <1/100 - infrequently, ≥1 / 10,000 and <1/1000 - rarely, <1/10 000 - very rare):
Cardiovascular system: infrequently - tachyarrhythmia or tachycardia, chest pain, palpitations, angina pectoris, orthostatic hypotension, myocardial infarction, syncope, "hot flushes" of the facial skin, peripheral edema, pallor, excessive lowering of blood pressure, Raynaud's syndrome; very rarely - cardiogenic shock, cardiac arrest;
Digestive system: often - vomiting, nausea, abdominal pain, irritation of the gastric mucosa, dryness of the oral mucosa, diarrhea, taste disturbance, constipation; rarely - anorexia, aphthous stomatitis, stomatitis; very rarely - stomach ulcer, glossitis, gingival hyperplasia, pancreatitis, functional disorders of the liver and cholestasis (including jaundice), hepatitis (including necrosis), increased activity of liver enzymes, hyperbilirubinemia;
Central nervous system: often - dizziness, drowsiness; rarely - ataxia, headache, paresthesia; very rarely - blurred vision, depression, confusion, cerebrovascular accidents, including syncope and stroke;
Respiratory system: often - shortness of breath, dry, unproductive cough; very rarely - eosinophilic pneumonitis, bronchospasm, pulmonary edema, rhinitis;
Urinary system: infrequently - nephrotic syndrome, frequent urination, functional disorders of the kidneys (including renal failure), polyuria, oliguria;
Musculoskeletal system: very rarely - arthralgia, myalgia, myasthenia gravis;
Reproductive system and mammary gland: very rarely - gynecomastia, impotence;
Allergic reactions: often - skin rashes, skin itching, with or without rashes, sometimes accompanied by arthralgia and fever; infrequently - vascular edema of the subcutaneous tissue and skin; rarely - angioedema of the intestine; very rarely - Stevens-Johnson syndrome, erythroderma, urticaria, photosensitivity, erythema multiforme, bullous pemphigus, reversible pemphigoid reactions, allergic alveolitis, exfoliative dermatitis, eosinophilic pneumonia, angioneurotic edema of the mucous membranes, face, throat, tongue, throat including fatal);
Hematopoietic system: very rarely - agranulocytosis, neutropenia, eosinophilia, thrombocytopenia, pancytopenia, lymphadenopathy, anemia (including hemolytic and aplastic forms), autoimmune diseases, increased titers of antinuclear antibodies;
Laboratory indicators: often - eosinophilia; very rarely - hyperkalemia, proteinuria, hyponatremia (including symptomatic), a decrease in hematocrit, an increased content of urea nitrogen, creatinine and bilirubin in the blood, a decrease in leukocytes, hemoglobin and platelets;
Others: often - alopecia; infrequently - increased fatigue, chest pain, deterioration of health.
Overdose
Symptoms of an overdose of Caposide are renal failure, a sharp decrease in blood pressure, bradycardia, imbalance in water and electrolyte balance, stupor, shock, lethargy (which can progress to a coma for several hours), not accompanied by disturbances in water and electrolyte balance and leading only to a slight depression of cardiac and respiratory functions. Sometimes there is an increase in the contractile activity of the gastrointestinal tract and irritation of its mucous membranes.
In case of an overdose, it is recommended to immediately take measures to ensure withdrawal from a state of stupor or coma, rinse the stomach, inject sodium sulfate and adsorbents (preferably within 30 minutes after taking Caposide), as well as 0.9% sodium chloride solution or other plasma-substituting solutions. Hemodialysis is effective, and in case of severe vagal reactions or bradycardia, the administration of atropine. In severe cases, it is advisable to use an artificial pacemaker. Captopril is not eliminated from the body through peritoneal dialysis due to its low effectiveness.
special instructions
At the beginning of therapy, there may be an excessive decrease in blood pressure, especially in patients with chronic heart failure, renal failure and / or severe arterial hypertension (including renal origin). Before starting the use of Caposide, it is necessary to compensate for the deficiency of sodium ions and normalize the volume of circulating blood, as well as determine the indicators of renal function.
During therapy, it is necessary to regularly monitor the activity of liver enzymes, the concentration of calcium and potassium in the blood serum (especially in elderly patients, as well as in patients receiving treatment with glucocorticoids, cardiac glycosides, often using laxatives), uric acid, glucose, lipids (triglycerides and cholesterol), creatinine and urea.
Regular monitoring of laboratory parameters and blood pressure is especially necessary for the following diseases / conditions:
Renal failure;
Arterial hypertension of severe course (including renal origin);
Violations of water and electrolyte balance and decompensated chronic renal failure;
Simultaneous use with allopurinol, lithium salts, procainamide and drugs that lower immunity;
Age over 65.
With the use of angiotensin-converting enzyme inhibitors, a characteristic unproductive cough is noted, which goes away on its own after discontinuation of therapy.
In some cases, with kidney disease, especially with severe renal artery stenosis, there may be a reversible (after discontinuation of Caposide) an increase in serum urea nitrogen and creatinine concentrations after a decrease in blood pressure.
Sometimes during therapy, there may be an increase in serum potassium concentration. The risk of developing hyperkalemia is higher in patients with diabetes mellitus and renal failure, as well as in those taking potassium supplements, potassium-sparing diuretics or other drugs that cause an increase in the concentration of potassium in the blood of patients (such combinations are recommended to be avoided).
Due to the increased risk of anaphylactoid reactions during hemodialysis, the use of high permeability dialysis membranes (eg AN69) should be avoided. Also, a high risk of developing anaphylactoid reactions is noted in patients who underwent apheresis procedure with low density lipoproteins using dextran sulfate.
With the development of angioedema, Capozid should be canceled and careful medical observation should be carried out until the symptoms disappear completely. Angioedema of the intestine may be accompanied by pain in the abdominal cavity. When the edema is localized on the face, special treatment is usually not required, angioedema of the larynx can be fatal.
Patients with diabetes mellitus receiving insulin or hypoglycemic agents for oral administration should carefully monitor the concentration of glucose in the blood, especially during the first month of using Caposide.
During the use of anesthetics or during major surgery, an excessive decrease in blood pressure may occur. In these cases, measures are taken to increase the volume of circulating blood.
With the development of jaundice or a pronounced increase in the activity of liver enzymes, Capozid should be canceled.
In patients with autoimmune diseases of the connective tissue, as well as in patients taking immunosuppressants, procainamide and allopurinol, especially in the presence of a previously existing functional impairment of the kidneys, before starting treatment, it is necessary to control the number of leukocytes (in the first 3 months of therapy - every 14 days, in the future - every 2 months).
All patients taking Capozid need to monthly monitor the number of leukocytes in the blood in the first 3 months after the start of treatment, then every 2 months.
In case of kidney disease, before starting treatment and periodically during the course of therapy, it is necessary to determine the concentration of protein in the urine (due to the risk of developing proteinuria).
If symptoms such as a sharp decrease in visual acuity and pain in the eyeball appear, you should immediately stop taking Caposide (due to the risk of developing transient myopia and acute angle-closure glaucoma). If necessary, you need to use drugs to correct intraocular pressure.
It is necessary to timely identify clinical signs of violations of the water and electrolyte balance (hypochlorous alkalosis, hyponatremia, hypokalemia). This is especially important with excessive prolonged vomiting or with the administration of infusion solutions. Symptoms of such disorders may include: thirst, dry mouth, weakness, confusion, lethargy, anxiety, cramps or muscle pain, muscle weakness, oliguria, excessive lowering of blood pressure, tachycardia, vomiting, nausea.
In hot weather, patients with edema may experience hyponatremia caused by an increase in circulating blood volume. In this case, you need to limit fluid intake.
While taking Capozid, the following conditions / diseases may develop:
Hyperuricemia or gout attacks;
Latent diabetes mellitus;
A decrease in the concentration of bound iodine in the blood serum without symptoms of dysfunction of the thyroid gland;
Decrease in the degree of calcium excretion;
Pathological changes in the parathyroid glands, accompanied by hypophosphatemia and hypercalcemia;
Increased excretion of magnesium (can lead to the development of hypomagnesemia);
Fever, swollen lymph nodes and / or the development of signs of pharyngitis and / or laryngitis (leukocyte count should be determined immediately).
Caposide can cause a positive doping test result, distort benthromide test results, and cause a false positive urine ketone body test.
Influence on the ability to drive vehicles and complex mechanisms
During therapy, care should be taken when driving vehicles and performing other potentially hazardous activities that require an increased concentration of attention and rapid psychomotor reactions.
Application during pregnancy and lactation
The use of Caposide in pregnant women is contraindicated. The results of epidemiological studies confirming the risk of developing a teratogenic effect after taking ACE inhibitors in the first trimester of pregnancy were not convincing enough, but a slight increase in risk cannot be ruled out. If it is impossible to do without treatment with an ACE inhibitor, women planning a pregnancy should be transferred to alternative antihypertensive therapy, the safety profile of which corresponds to the use during pregnancy.
It is known that prolonged exposure to ACE inhibitors on the fetus in the II and III trimesters of pregnancy can provoke violations of its development (delayed ossification of the skull bones, oligohydramnios, kidney dysfunction) and lead to complications in the newborn (hyperkalemia, arterial hypotension, renal failure). If a pregnant woman took Capozid during the II and III trimesters of pregnancy, it is advisable to conduct an ultrasound examination to assess the function of the kidneys and the condition of the fetal skull bones.
The appointment of hydrochlorothiazide during pregnancy is not recommended, since it sometimes leads to imbalances in water and electrolyte balance, thrombocytopenia, fetal / newborn jaundice and worsens placental perfusion.
The use of ACE inhibitors in pregnant women can cause developmental disorders (including reversible or irreversible renal failure, anuria, arterial hypotension, neonatal hypoplasia of the skull bones) and fetal death. If the fact of pregnancy is established, it is necessary to stop treatment with Caposide as soon as possible.
Hydrochlorothiazide and captopril after oral administration during lactation are determined in breast milk. Since both active ingredients can increase the risk of developing serious adverse reactions in a child, it is recommended that either stop breastfeeding or discontinue the course of treatment for a nursing mother with Caposide until breastfeeding ends.
Drug interactions
Patients taking diuretics, especially at the beginning of treatment, as well as in combination with strict adherence to a salt-free diet or hemodialysis, may sometimes experience an excessive decrease in blood pressure, which usually occurs within the first hour after taking the first prescribed dose of Caposide (it is necessary to monitor the patient's condition) …
In case of an excessive decrease in blood pressure, it is necessary to transfer the patient to a horizontal position with a low headboard and, if necessary, inject 0.9% sodium chloride solution intravenously. A transient excessive lowering of blood pressure is not a contraindication to further therapy; Capozid's intake can be continued after its normalization by increasing the volume of circulating blood.
Medicinal interactions of Caposide are determined by the properties of the active substances included in it. In order to avoid the development of undesirable side effects and changes in the therapeutic effect, you should consult your doctor before simultaneous use with other drugs.
Analogs
Analogs of Kaposid are: Normopres, Kaptopres-Darnitsa, Kapotiazid.
Terms of dispensing from pharmacies
Dispensed by prescription.
Terms and conditions of storage
Keep out of reach of children at temperatures up to 25 ° C.
The shelf life is 3 years.
Reviews about Caposide
According to numerous reviews, Capozid is a highly effective drug. Among its advantages, patients indicate the speed of action, as well as the possibility of using it for a long period of time. In some reviews, there are complaints about the development of adverse reactions.
Price for Caposid in pharmacies
The approximate price of Caposide in pharmacies is from 415 to 527 rubles (for a pack containing 28 tablets).
Caposid: prices in online pharmacies
Drug name
Price
Pharmacy
Caposid 50 mg + 25 mg tablets 28 pcs.
427 r
Buy
Caposid tablets 50mg + 25mg 28 pcs.
457 r
Buy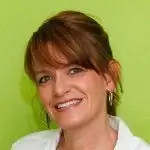 Maria Kulkes Medical journalist About the author
Education: First Moscow State Medical University named after I. M. Sechenov, specialty "General Medicine".
Information about the drug is generalized, provided for informational purposes only and does not replace the official instructions. Self-medication is hazardous to health!
Popular by topic