Table of contents: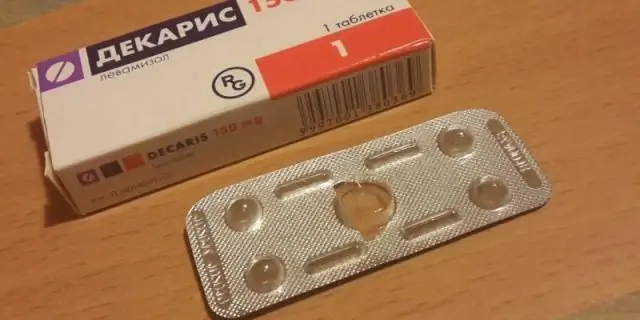 Video: Camphor Ointment - Instructions For Use, Price, Reviews, Analogues
Camphor ointment
Camphor ointment: instructions for use and reviews
1. Release form and composition
2. Pharmacological properties
3. Indications for use
4. Contraindications
5. Method of application and dosage
6. Side effects
7. Overdose
8. Special instructions
9. Application during pregnancy and lactation
10. Use in childhood
11. Drug interactions
12. Analogs
13. Terms and conditions of storage
14. Terms of dispensing from pharmacies
15. Reviews
16. Price in pharmacies
Latin name: Camphor ointment
ATX code: M02AX10, С01ЕВ02
Active ingredient: camphor (camphora)
Manufacturer: Tverskaya, Tula, Yekaterinburg, Kirov, Krasnodar, Novosibirsk, Pskov, Pyatigorsk, Rostov pharmaceutical factories (Russia), SPbNIIVS FMBA of Russia (Russia), FITOFARM-NN (Russia), etc.
Description and photo update: 2018-21-11
Prices in pharmacies: from 48 rubles.
Buy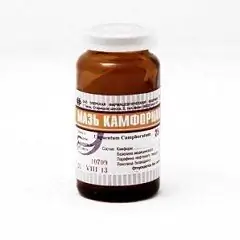 Camphor ointment is an external herbal preparation with local irritating action.
Release form and composition
The dosage form of the drug is an ointment for external use: a mass of uniform consistency from yellow to yellow-brown color with a specific camphor smell (25 or 50 g in glass jars; 25, 30, 40 or 50 g in tubes).
Composition per 100 g of ointment:
active substance: camphor - 10 g;
auxiliary components *: petroleum jelly, anhydrous lanolin, solid petroleum paraffin.
* Other composition of auxiliary components of Camphor ointment is possible (depending on the manufacturer).
Pharmacological properties
Pharmacodynamics
The active component of Camphor ointment, a terpenoid of natural origin, terpene ketone - camphor [natural camphor is obtained from wood or resin of Camphor laurel, semi-synthetic camphor - from fir oil, synthetic (racemic) - as a result of processing turpentine and its main metabolite - α-pinene] …
Camphor has antiseptic, local irritant, analgesic and anti-inflammatory effects. By stimulating the sensitive nerve endings of the skin, it helps to expand blood vessels and improve the trophism of organs and tissues.
Pharmacokinetics
After applying Camphor ointment to the skin surface, it is partially absorbed and oxidized. Oxidation products of the ointment combine with glucuronic acid and are eliminated by the kidneys. Partially camphor is excreted unchanged through the lungs and with bile.
The substance easily penetrates the blood-brain (BBB) and placental barriers, in high doses it is found in breast milk.
Indications for use
According to the instructions, it is recommended to rub Camphor ointment into the affected areas of the body in the following cases:
diseases of muscles and joints: myalgia, myositis, arthralgia, sciatica;
prevention of bedsore formation;
neuralgia (pain along the nerve innervation).
Contraindications
dermatitis, eczema, other inflammations and violations of the integrity of the skin at the sites of the alleged application of the ointment;
children and adolescents under 18 years of age;
the period of pregnancy and breastfeeding;
hypersensitivity to camphor and other components of the drug.
Instructions for the use of Camphor ointment: method and dosage
The drug is intended for external use by applying to the area of pain.
Recommended dosage: 2-3 times a day, a small amount of ointment is rubbed with light movements over the focus of pain. To prevent the formation of pressure ulcers, the skin in places of their probable formation is treated with ointment 2-3 times a day. The course of therapy is 7-10 days. The repeated course is carried out on the recommendation of the attending physician.
After applying the drug, wash your hands thoroughly.
Side effects
As a result of external use of the drug, side effects such as urticaria and other allergic skin reactions, skin irritation, as well as headache and dizziness are possible.
Overdose
There is no data.
special instructions
It is recommended to avoid getting the ointment in the eyes, mucous membranes and open wounds.
Influence on the ability to drive vehicles and complex mechanisms
Patients using Camphor ointment should be careful when performing all types of work that require increased concentration of attention and high speed of psychomotor reactions.
Application during pregnancy and lactation
Camphor ointment is contraindicated for pregnant and lactating women.
Pediatric use
In pediatric practice, the drug is not prescribed for children and adolescents under the age of 18.
Drug interactions
There is no data.
Analogs
Analogs of Camphor ointment are: Camphor, Camphor oil, Camphor alcohol, Adjikold-Plus, Alvipsal, Gavkamen, etc.
Terms and conditions of storage
Keep out of reach of children and protected from light. The storage temperature is indicated on the packaging (depends on the manufacturer).
Shelf life is 4 years.
Terms of dispensing from pharmacies
Available without a prescription.
Reviews about Camphor ointment
Patients practically do not leave reviews about Camphor ointment when used according to indications. But some recommend using it in a comprehensive weight loss program for a faster volume reduction by increasing metabolism in the tissues in the area of application.
Price for Camphor ointment in pharmacies
The approximate price for Camphor ointment for 25 g in a bottle is from 13 to 25 rubles.
Camphor ointment: prices in online pharmacies
Drug name
Price
Pharmacy
Camphor ointment 10% 10% ointment for external use 25 g 1 pc.
RUB 48
Buy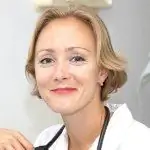 Anna Kozlova Medical journalist About the author
Education: Rostov State Medical University, specialty "General Medicine".
Information about the drug is generalized, provided for informational purposes only and does not replace the official instructions. Self-medication is hazardous to health!
Popular by topic