Table of contents: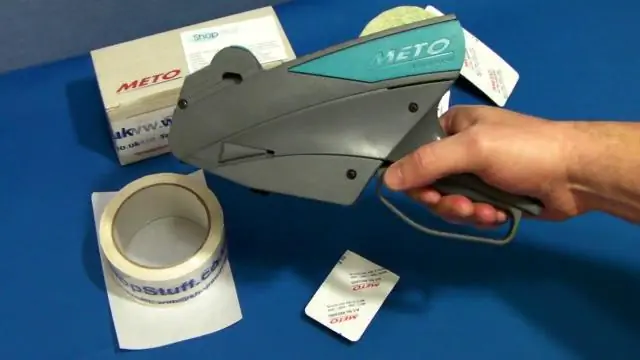 Video: Methandrostenolone - Instructions For Use, Price, Analogues, Reviews
Methandrostenolone
Methandrostenolone: instructions for use and reviews
1. Release form and composition
2. Pharmacological properties
3. Indications for use
4. Contraindications
5. Method of application and dosage
6. Side effects
7. Overdose
8. Special instructions
9. Drug interactions
10. Analogs
11. Terms and conditions of storage
12. Terms of dispensing from pharmacies
13. Reviews
14. Price in pharmacies
Latin name: Methandrostenolon
ATX code: А14АА03
Active ingredient: metandienone (metandienone)
Producer: OJSC Akrikhin (Russia), British Dispensary (Thailand)
Description and photo update: 2019-13-08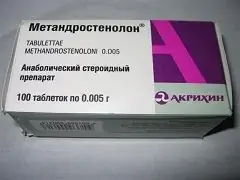 Methandrostenolone is a synthetic steroid drug with a weak androgenic and pronounced anabolic effect.
Release form and composition
Methandrostenolone is produced in the form of tablets: white, flat-cylindrical, with a bevel (1 or 10 pcs. In blisters, 10 packs in a cardboard box).
The composition of 1 tablet includes:
Active substance: methandienone - 5 mg;
Auxiliary components: sugar, potato starch, stearic acid.
Pharmacological properties
Methandienone significantly increases protein synthesis, which is due to anabolic activity against a background of weak androgenic action. This substance activates glycogenolysis and protein production, which contributes to the rapid growth of muscle mass. There is also a strengthening of the bones of the skeleton due to the accumulation of calcium in them, an improvement in tissue trophism, an increase in strength indicators, a slight burning of body fat and an increase in appetite. The use of Methandrostenolone leads to the accumulation of water, nitrogen, sodium, phosphorus, potassium and sulfur in the body.
Pharmacodynamics
At the moment, information on the pharmacodynamics of the drug is not provided by the manufacturer.
Pharmacokinetics
Studies of the pharmacokinetic parameters of Methandrostenolone have not yet been conducted.
Indications for use
Cachexia of various origins;
Disorders of protein metabolism after infectious diseases, severe injuries, burns, radiation therapy, surgical operations;
Osteoporosis of various etiologies, progressive muscular dystrophy;
Myopathy and osteoporosis (prevention against the background of treatment with glucocorticosteroids);
Growth retardation in children (pituitary dwarfism, Shereshevsky-Turner syndrome);
Delay in physical development and puberty (sexual infantilism) in boys;
Encephalopathy developing against the background of alcoholic hepatitis.
Contraindications
Nephrosis;
Mammary cancer;
Breast cancer (in men);
Renal and / or hepatic impairment;
Hypercalcemia;
Prostate adenoma;
Glomerulonephritis (nephrotic stage);
Pregnancy and lactation;
Hypersensitivity to drug components.
Instructions for the use of Methandrostenolone: method and dosage
Methandrostenolone is taken orally, preferably before meals.
The adult initial daily dose is 10-15 mg, in some cases it may be increased to 30-50 mg; maintenance dose - 5-10 mg per day. The maximum doses are: single - 10 mg, daily - 50 mg. As a rule, the drug is taken for 1-2 months. If necessary, with interruptions of 1-2 months, repeated treatment is carried out.
For children, Methandrostenolone is prescribed in the following daily doses (in 1-2 doses):
Up to 2 years: 0.05-0.1 mg / kg;
2-5 years: 1-2 mg / kg;
6-14 years old: 3-5 mg / kg.
The duration of therapy should not be longer than 4 weeks, repeated courses are carried out at intervals of 6-8 weeks.
Side effects
Organs of the gastrointestinal tract: jaundice, functional disorders of the liver, dyspeptic symptoms, including vomiting, nausea, diarrhea, abdominal pain;
Cardiovascular system and blood (hemostasis, hematopoiesis): iron deficiency anemia, hypocoagulation state with a tendency to bleeding, leukemoid syndrome (in the form of pain in long bones, leukemia);
Others: peripheral edema, progression of atherosclerosis (in the form of an increase in the concentration of low density lipoproteins and a decrease in the concentration of high density lipoproteins).
With prolonged use of Methandrostenolone, the following side effects may develop:
Women: virilization (in the form of steroid acne, increased oily skin, enlarged clitoris, hirsutism, hoarseness or coarsening of the voice, dys- and amenorrhea), hypercalcemia (in the form of increased fatigue, depression of the central nervous system, vomiting, nausea);
Men: in the prepubertal period - manifestations of excessive androgenic activity (in the form of acne, penis enlargement, priapism, the formation of secondary sexual characteristics), idiopathic hyperpigmentation of the skin, cessation or retardation of growth (in the form of calcification of the epiphyseal growth zones of tubular bones); in the postpubertal period - irritation of the bladder (in the form of an increase in the frequency of urges), gynecomastia, mastodynia, priapism, decreased sexual function; in elderly patients - carcinoma and / or prostatic hyperplasia;
General: hepatonecrosis (in the form of headache, feelings of discomfort, breathing disorders, dark feces, vomiting with blood), hepatocellular carcinoma, hepatic purpura (in the form of dark urine, discoloration of feces, urticaria, pharyngitis or tonsillitis, pinpoint or macular hemorrhagic eruptions) mucous membranes and skin), cholestatic hepatitis (in the form of yellow staining of the sclera and skin, pain in the right hypochondrium, dark urine, discolored feces), increased secretion of the sebaceous glands, decreased or increased libido, chills, diarrhea, flatulence, a feeling of fullness in the stomach, convulsions, sleep disturbance.
Overdose
Symptoms of an overdose of Methandrostenolone often appear when a daily dose of 30 mg is exceeded and are expressed in an increase in side effects. Such phenomena disappear after discontinuation of therapy or correction of the treatment regimen.
special instructions
To achieve the optimal effect during therapy with Methandrostenolone, the patient needs to receive an adequate amount of fats, proteins, carbohydrates, minerals and vitamins with food.
Taking a drug to stimulate athletic qualities is unacceptable, as it can cause serious harm to health.
Drug interactions
According to the instructions, Methandrostenolone, when used simultaneously, enhances the effect of antiplatelet agents, anticoagulants and hypoglycemic drugs, as well as the side effects of hepatotoxic drugs.
Analogs
The analogs of Methandrostenolone are: Dianabol, Nerobol, Anaboleks, Anabolii, Methandienone, Anaboral, Bionabol, Dehydromethyltestosterone, Distranorm, Danabol, Lanabolin, Metanabol, Metastenone, Nabolin, Perabol, Vanabolin, Novabol, Stenolone.
Terms and conditions of storage
Store in a dark, dry place out of reach of children at temperatures up to 25 ° C.
The shelf life is 5 years.
Terms of dispensing from pharmacies
Dispensed by prescription.
Reviews of Methandrostenolone
According to reviews, Methandrostenolone is often used to increase muscle mass. This is evidenced by numerous statements on thematic forums, where discussion participants share the drug intake regimens and talk about the results of its use. Some users claim that they managed to gain significant muscle gain, although it took a lot of effort.
Sometimes patients speak negatively about the drug, which not only did not affect the state of their muscles, but also provoked a deterioration in their health. Experts advise using such treatment regimens only under the strict supervision of a physician who will select the optimal therapy regimen, taking into account the patient's individual performance. Self-administration of the drug can provoke serious complications.
Price for Methandrostenolone in pharmacies
At the moment, the price of Methandrostenolone is unknown, since the drug is not available for sale. The cost of its analogues: Methandienone - about 724–831 rubles, Danabol - about 662–823 rubles.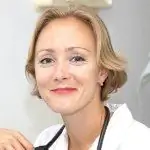 Anna Kozlova Medical journalist About the author
Education: Rostov State Medical University, specialty "General Medicine".
Information about the drug is generalized, provided for informational purposes only and does not replace the official instructions. Self-medication is hazardous to health!
Popular by topic