Table of contents: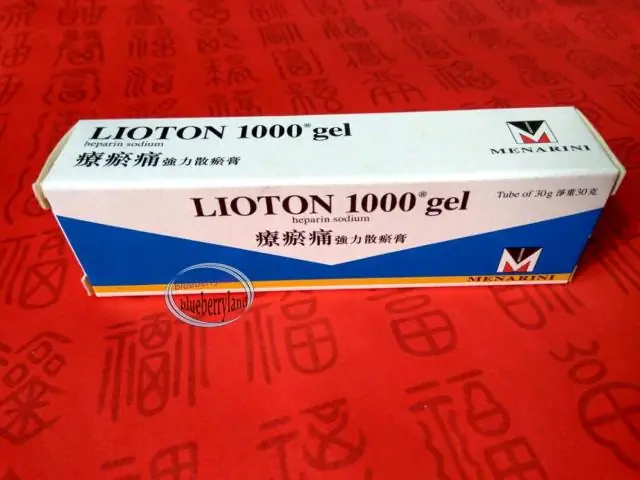 Video: Lioton 1000 - Instructions For The Use Of The Gel, Price, Analogues, Reviews
Lyoton 1000
Lioton 1000: instructions for use and reviews
1. Release form and composition
2. Pharmacological properties
3. Pharmacokinetics
4. Indications for use
5. Contraindications
6. Method of application and dosage
7. Side effects
8. Overdose
9. Special instructions
10. Application during pregnancy and lactation
11. Use in childhood
12. Drug interactions
13. Analogs
14. Terms and conditions of storage
15. Terms of dispensing from pharmacies
16. Reviews
17. Price in pharmacies
Latin name: Lioton 1000
ATX code: С05ВА03
Active ingredient: sodium heparin (heparinum natricum)
Manufacturer: A. Menarini Manufacturing Logistics and Services S.r.l. (A. Menarini Manufacturing Logistics and Services SrL) (Italy)
Description and photo update: 2019-20-08
Prices in pharmacies: from 327 rubles.
Buy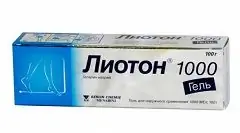 Lyoton 1000 is an external drug that has an antithrombotic effect.
Release form and composition
Lioton 1000 is available in the form of a gel for external use: almost transparent, with a slightly yellowish tinge or colorless, viscous consistency (30, 50 or 100 g in aluminum tubes, 1 tube in a cardboard box).
The 1000 mg gel contains:
Active ingredient: sodium heparin - 1000 IU (International Units);
Auxiliary components: methyl parahydroxybenzoate - 1.2 mg, carbomer 940 - 12.5 mg, propyl parahydroxybenzoate - 0.3 mg, ethyl alcohol 96% (ethanol) - 0.3 ml, neroli oil - 0.5 mg, lavender oil - 0, 5 mg, trolamine (triethanolamine) - 8.5 mg, purified water - up to 1000 mg.
Pharmacological properties
Pharmacodynamics
Heparin sodium is a direct-acting anticoagulant that is part of the group of medium-molecular-weight heparins. It prevents thrombus formation, enhances the fibrinolytic properties of blood, suppresses the activity of hyaluronidase.
When applied externally, sodium heparin is characterized by a local anti-inflammatory, anti-edematous and antithrombotic effect: the drug reduces tissue edema, prevents the formation of blood clots, and also activates tissue metabolism and improves blood microcirculation, which promotes accelerated resorption of hematomas.
Pharmacokinetics
When applied externally, sodium heparin in small concentrations enters the systemic circulation, but does not have a systemic effect and does not cause any changes in blood coagulation indicators. Also, the substance does not cross the placental barrier.
Indications for use
Phlebothrombosis, thrombophlebitis of superficial veins;
Complications after vein surgery;
Contusions, trauma (including joints, muscle tissue and tendons);
Edema and localized infiltrates;
Subcutaneous hematomas.
Contraindications
damage to the skin at the intended site of application of the gel, such as open wound surfaces, ulcerative necrotic ulceration;
thrombocytopenia, increased bleeding tendency;
age under 18;
proven hypersensitivity to heparin or auxiliary components of the drug.
Instructions for the use of Lioton 1000: method and dosage
Lyoton 1000 is applied externally, applying the gel to the affected area and rubbing gently, 1-3 times a day. A single dose is 3-10 cm of gel.
Recommended duration of treatment:
localized consequences of injuries and bruises (infiltration, hematoma, soft tissue edema) - the gel should be applied until the symptoms disappear;
initial symptoms of venous insufficiency (venous edema, heaviness and pain in the legs) - the duration of the course is from 1 to 3 weeks, depending on the severity of the symptoms;
chronic venous insufficiency (superficial periphlebitis, varicose veins, superficial thrombophlebitis) - the duration of the course is from 4 to 6 weeks, depending on the severity of symptoms; if further therapy is necessary, consult a doctor.
Side effects
During the use of Lioton 1000, side effects may develop, manifested in the form of allergic reactions.
Overdose
Due to the very low systemic absorption of sodium heparin, an overdose of Lyoton 1000 when applied topically is considered almost impossible. If undesirable symptoms appear after applying the product to the skin, it is recommended to neutralize the effect of the drug with a solution of protamine sulfate.
special instructions
Gel Lioton 1000 can not be used for purulent processes, bleeding, and also applied to open wounds and mucous membranes.
Influence on the ability to drive vehicles and complex mechanisms
According to the instructions, Lyoton 1000 does not affect the ability to drive vehicles or perform complex types of work that require increased concentration.
Application during pregnancy and lactation
It is allowed to prescribe Lioton 1000 during pregnancy and during breastfeeding. Heparin sodium does not cross the placental barrier and is not detected in breast milk. Since this substance is slightly absorbed when applied externally, the drug does not have a systemic effect on the body. However, pregnant and lactating women should consult a doctor before starting treatment.
Pediatric use
In pediatric practice, the use of Lioton 1000 gel is contraindicated, since the safety and effectiveness of its use for the treatment of children and adolescents under 18 years of age have not been studied.
Drug interactions
There are no data on the interaction of Lyoton 1000 with other drugs.
Analogs
Analogs of Lioton 1000 are: Heparin, Heparin-Akrikhin, Heparin-Akrigel 1000, Lavenum, Trombless, Venitan Forte, Venolife, Heparin ointment, Heparoid Zentiva, Hepatrombin, Dolobene, Kontraktubex, Venabos, Trombless Plyusvase.
Terms and conditions of storage
Keep out of reach of children at temperatures up to 25 ° C.
The shelf life is 5 years.
Terms of dispensing from pharmacies
Available without a prescription.
Lyoton 1000 reviews
On the network, there are mainly positive reviews about Lyoton 1000. On specialized resources, this antithrombotic drug for external use has a rating of 4-4.5 points out of 5. Since the gel contains sodium heparin in high concentration, it eliminates the consequences of bruises and sprains, prevents the appearance spider veins, eliminates soreness and swelling, relieves the feeling of heaviness in the legs.
Very often, Lyoton 1000 is prescribed to pregnant women, since during this period the risk of developing adverse events associated with venous insufficiency increases significantly. Many of them note that the drug effectively relieves venous blood stagnation, prevents the development of severe edema and thrombophlebitis, helps with leg fatigue, and improves the tone of the vascular walls.
There are also negative reviews about the gel, which say that, despite the long course of treatment, the manifestations of varicose veins remained, and there was no clear improvement in the condition of the legs. However, experts say that Lyoton 1000 does not cure varicose veins, but only serves as a supportive therapy that slows down the progression of the pathological process and prevents complications.
Many tips mention that walking, swimming, wearing compression knitted bandages, and a contrast shower for the legs help increase the effectiveness of the gel. You should also wear comfortable shoes, rarely cross your legs, and often rest your lower limbs by placing them in an elevated position.
Some patients purchase Lyoton 1000 gel for cosmetic purposes, for applying it to the skin of the face. The spectrum of action of the drug allows its use as a refreshing, tonic, tightening and decongestant. Sometimes women use it as a base for makeup, and plastic surgeons in many cases recommend the gel to improve the condition of the facial skin after blepharoplasty or other cosmetic procedures.
Price for Lyoton 1000 in pharmacies
The approximate price for Lioton 1000 in a 30 g tube is 341‒389 rubles, in a 50 g tube - 472–558 rubles, in a 100 g tube - 772–880 rubles.
Lioton 1000: prices in online pharmacies
Drug name
Price
Pharmacy
Lioton 1000 1000 U / g gel for external use 30 g 1 pc.
327 r
Buy
Lioton 1000 gel 30g
385 r
Buy
Lioton 1000 1000 U / g gel for external use 50 g 1 pc.
476 r
Buy
Lioton 1000 gel 50g
532 RUB
Buy
Lioton 1000 1000 U / g gel for external use 100 g 1 pc.
760 RUB
Buy
Lioton 1000 gel 100g
818 RUB
Buy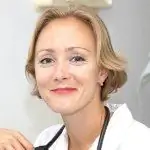 Anna Kozlova Medical journalist About the author
Education: Rostov State Medical University, specialty "General Medicine".
Information about the drug is generalized, provided for informational purposes only and does not replace the official instructions. Self-medication is hazardous to health!
Popular by topic